Meet Dr. Alborzian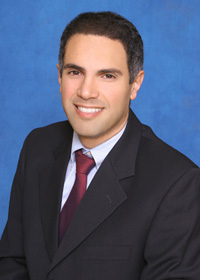 Shervin Alborzian, M.D. is an American Board of Ophthalmology Certified Surgeon and Medical Doctor, who was hand picked by his predecessor, Dr. Forrest Murphy, to continue the personalized model of ophthalmology care to the San Diego community at Eye Center of La Jolla.
Dr. Alborzian grew up in San Diego, CA and attended La Jolla High School. After 17 years of pursuing higher education outside of San Diego, he returned to his hometown in 2011, as Dr. Murphy retired, to take over the practice and to serve the people of his childhood community.
Dr. Alborzian received his baccalaureate of science (B.S.) degree in Neuroscience from UCLA, after which he undertook further post-baccalaureate studies at UCSF. He moved to the east coast of the United States for medical school and obtained a medical doctorate (M.D.) degree from Boston University School of Medicine. He completed his internship at MetroWest Framingham Hospital, a Harvard Medical School affiliated program, from which he returned to Boston University to complete his ophthalmology surgical training.
Dr. Alborzian worked for Kaiser Permanente in Northern California and in Washington, D.C. prior to deciding that the best care is provided through private practice. He specializes in comprehensive ophthalmology and is a topical anesthesia cataract surgeon. He conducts a modern surgery for glaucoma, called Canaloplasty, and is board certified to treats various illnesses of the eyes, including diabetic retinopathy and macular degeneration. He is a laser specialist and performs various ophthalmic lasers, including LASIK.
Dr. Alborzian's professional affiliations include, active staff surgeon at the reputable Scripps Memorial Hospital-La Jolla. He is also a registered active member of the American Board of Ophthalmology, the American Academy of Ophthalmology, the American Society of Cataract and Refractive Surgeons, and Alpha Omega Alpha Medical Honor Society. He holds an active Medical Board of California license and is registered with the Drug Enforcement Administration in Washington, DC.